2021 EEA Virtual Gala Sponsor registration
Date and Time
Friday Feb 26, 2021
Fees/Admission
Platinum Sponsorship: $2,500 (only 5 available)
Gold Sponsorship: $1,000
Silver Sponsorship: $500
Bronze Sponsorship: $250

Don't worry about attendees now, ACEC/MN staff will follow up with all sponsors with complimentary registrations to get names.

2021 EEA Virtual Gala Sponsor registr...
Description
We have reached our deadline for sponsorships for our EEA Gala - thank you to all our sponsors!

Please email john@acecmn.org if you are still interested in participating as a sponsor but have not yet signed up.

The ACEC Minnesota Engineering Excellence Awards showcase and celebrate projects that represent the highest degree of merit and ingenuity in the industry. This year we will not be able to gather in-person this year for the Gala, but there are exciting opportunities with the gala moving to an online event:

Online Event Platform: the gala event will utilize a special online event platform that will offer new functions and features for sponsors, firms with projects, and attendees - see below for more details!

Poster Sessions for all entered projects: a virtual landing page / booth for your project, it's the perfect place to display your poster board, videos of your project, and host any other images or documents that attendees want to see.

Event website stays live for a full year: revisit Poster Sessions or Sponsor booths any time over the next 12 months, send a link to your project page to a potential client or post to social media, or add additional information about your firm's services to the Poster Session.

Combination Pre-Recorded & Live event: taking the best of both worlds, this event will combine the high production value and seamless presentation of a pre-recorded event with the excitement and energy of live announcements of the Grand Conceptor and People's Choice Awards

Meeting & messaging features: in the old days, we could just strike up a conversation by walking across the room. It'll be just that easy at the Gala - use the People menu to take a look at the list of attendees, send a message and a few clicks later you'll be chatting away.
If you're looking for more socializing, there will be a virtual lounge before and after the event, so stick around or show up early and catch up with everyone you haven't seen in a while.
Great marketing opportunities for sponsors:
as in previous years, sponsors will receive recognition in many ways before, during & after our Gala. See below for our table, or
click here to see bullets for each sponsorship level
.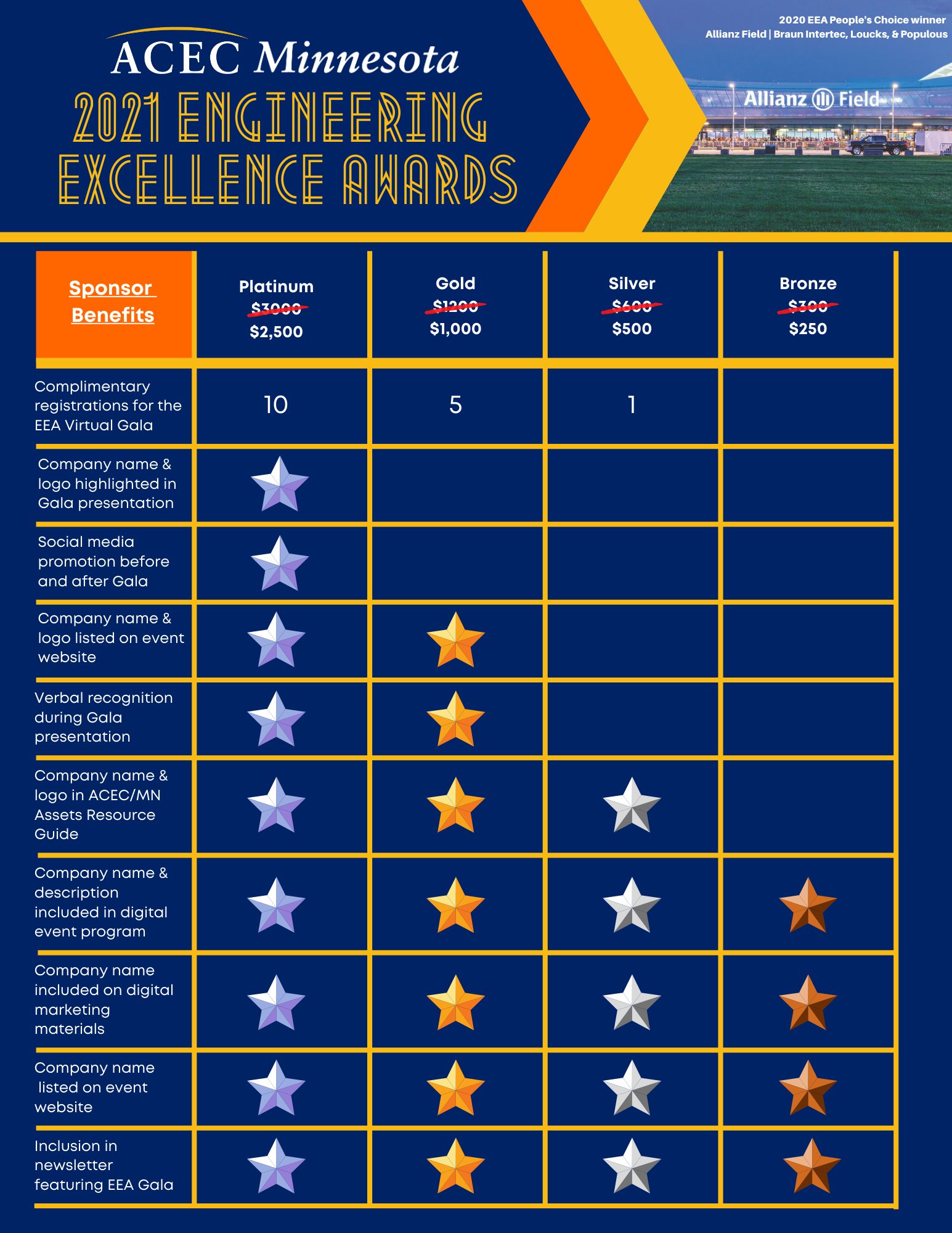 Any questions on sponsorships? Please reach out to Jon Curry at jcurry@acecmn.org or John Krapek at john@acecmn.org.