2022 ACEC/MN Scholarship Softball Tournament
Date and Time
Saturday Aug 20, 2022
8:00 AM - 4:30 PM CDT
Registration Opens Thursday, July 7th at 12PM

Tournament start times for teams will be 8:00AM or 9:00AM depending on bracket composition. Brackets and schedules will be emailed to team captains during the week of August 8, 2022.

Fees/Admission
$500 per team
2022 ACEC/MN Scholarship Softball Tou...
Description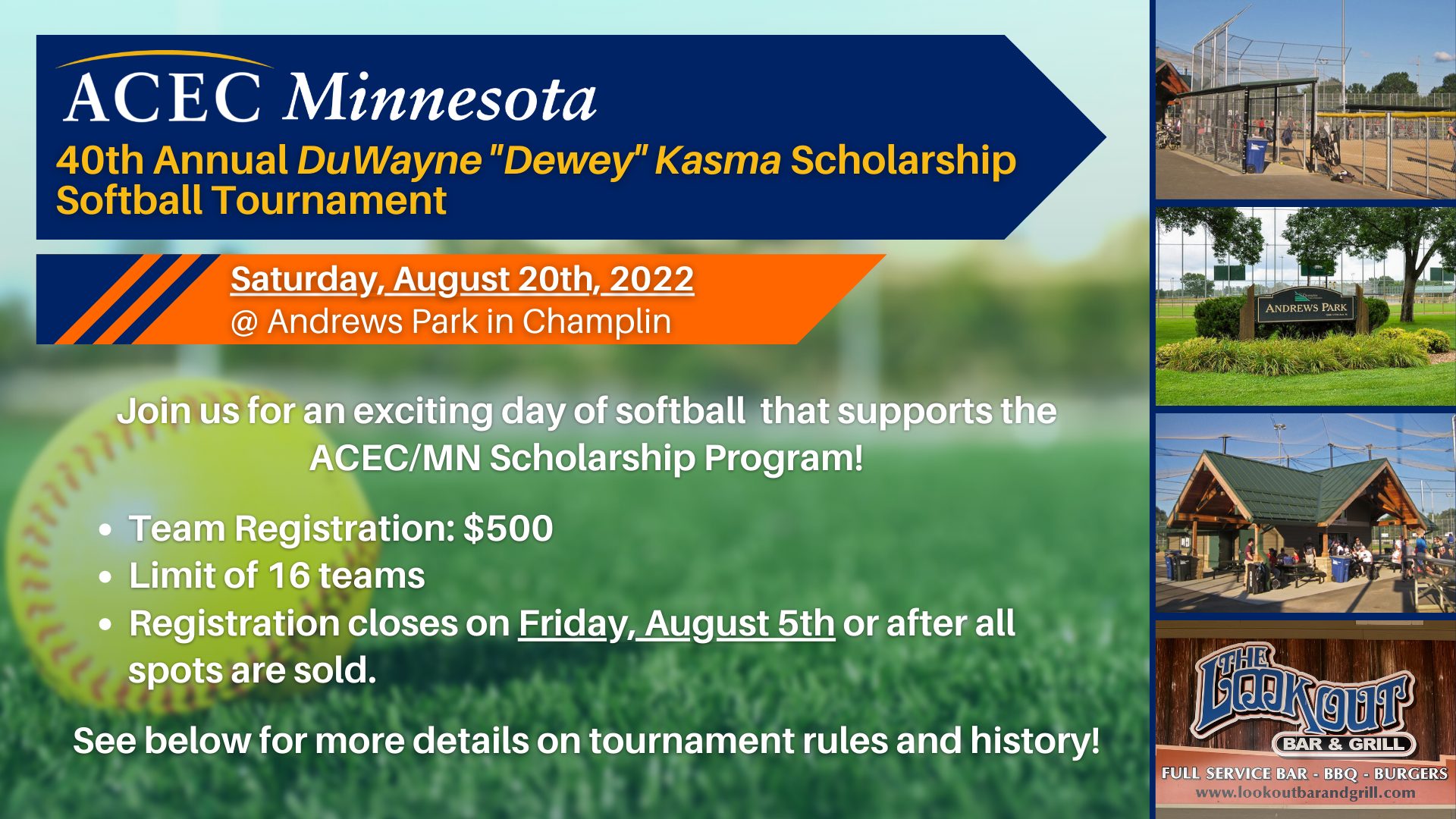 After a pandemic pause, the ACEC/MN DuWayne "Dewey" Kasma Memorial Scholarship Softball Tournament is returning for a 40th installment! Please join us Saturday, August 20, 2022, at Andrews Park in Champlin for a day of fun out on the softball diamond. The event raises funds for scholarships that are awarded each year to deserving engineering students.

Because of field constraints, the tournament will be limited to 16 teams this year. The entry deadline is Friday, August 5, 2022, (unless the tournament field fills sooner).

This tournament will utilize USSSA softballs, umpires, and rules; plan your bats accordingly. Please contact Jordan Schwarze at jschwarze@alliant-inc.com or 612-767-9334 with any questions.

ACEC/MN worked with the Kasma family in an effort to remember "Dewey" by naming the yearly scholarship softball tournament after him. In return, the family annually makes a generous donation in memory of Dewey that will be added to the ACEC/MN Scholarship Fund. DuWayne "Dewey" Kasma was a registered civil engineer, he graduated from the University of Minnesota and worked his entire career at TKDA from 1963 until his death at age 48 in 1988. He managed the Municipal Department from 1968 to 1976, established TKDA's Marketing Department, and was named Vice President and a member of the Board of Directors in 1978. He was a member of ACEC, MPWA, CEAM and MSPE.

If you would like to make a contribution to support the ACEC/MN Scholarship Fund, please click here.

Please Note: No beverages (other than water) may be brought into the Andrews Park softball complex. The Lookout will supply a cooler checker at the entrance to the softball complex. Small quantities of food will be allowed, but let's try to support the Lookout's onsite restaurant to the best of our ability.