ACEC Research Institute - Engineering Industry Trends & Forecast
Date and Time
Thursday Apr 20, 2023
7:30 AM - 9:30 PM CDT
7:30AM - Registration
8:00-9:30AM - Program
Location
Minnesota Humanities Center
987 Ivy Avenue East
St. Paul, MN 55106
Fees/Admission
$45 ACEC/MN members
$90 Nonmembers
ACEC Research Institute - Engineering...
Description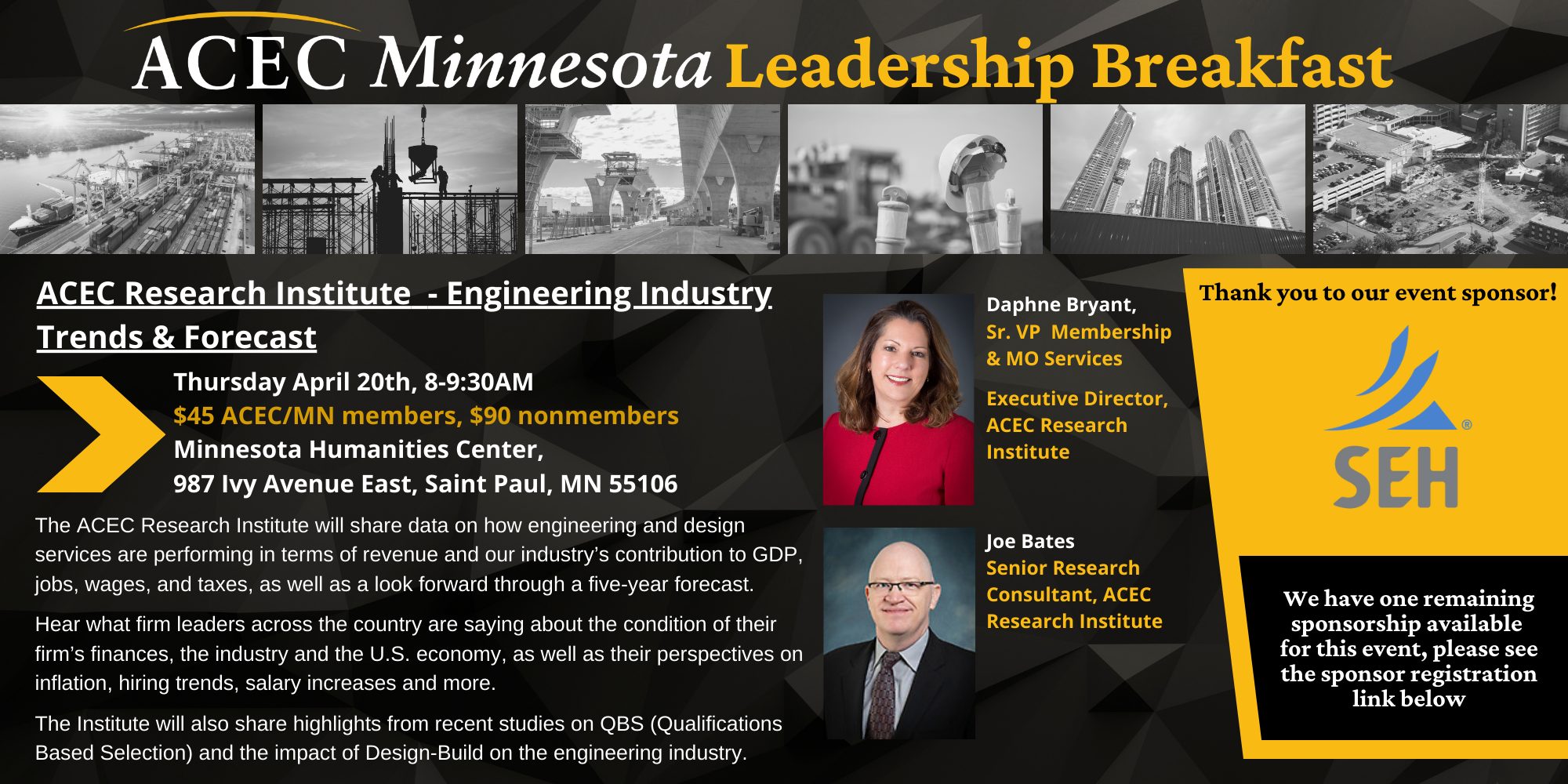 1 event sponsorship is still available for this Leadership Breakfast, please see this link for more information or to register.

Daphne Bryant, Senior Vice President Membership & MO Services and Executive Director, ACEC Research Institute
Daphne Bryant joined ACEC in 2018. Daphne is a member of ACEC's senior leadership team and is responsible for recruitment and retention of ACEC's member firms, as well as providing services and support to ACEC's 51 state Member Organizations (MOs). She is a results-driven association professional with over 30 years of nonprofit and association management experience and a demonstrated track record of building relationships and revenues. Daphne helped launch the ACEC Research Institute in 2020. She is responsible for the overall management of the Institute, including strategic direction, board management, fundraising, and delivery of a dynamic research and thought leadership programs benefiting ACEC members and the industry.

Joseph Bates, Senior Research Consultant, ACEC Research Institute
Joe Bates is the Founder and President of the Institute for Association and Nonprofit Research and serves as a senior research consultant for the ACEC Research Institute. He has more than 25 years of experience in the research industry and is an expert in qualitative and quantitative research design, implementation, analysis, and strategic plan consulting, as well as a professionally trained focus group moderator. Joe is a seasoned presenter and university guest lecturer and enjoys communicating research trends and statistical data to staff, members, media and industry professionals in a humorous and easily understandable style. He has presented research hundreds of times to audiences around the world.