Leadership Breakfast: ElevateHer, A Call to Action for Firm Leaders
Date and Time
Wednesday Apr 28, 2021
8:00 AM - 9:30 AM CDT
Location
Online via Zoom, connection details provided in confirmation message
Fees/Admission
$30 ACEC/MN members
$75 non-members

New this year: when you register, receive a free entry for a young leader at your firm, details provided in your confirmation email.

If you work for an ACEC/MN member firm, you are an ACEC/MN member - if you need help setting up your account in the database or have any trouble registering / receiving member pricing, please contact John Krapek at john@acecmn.org for assistance.
Leadership Breakfast: ElevateHer, A C...
Description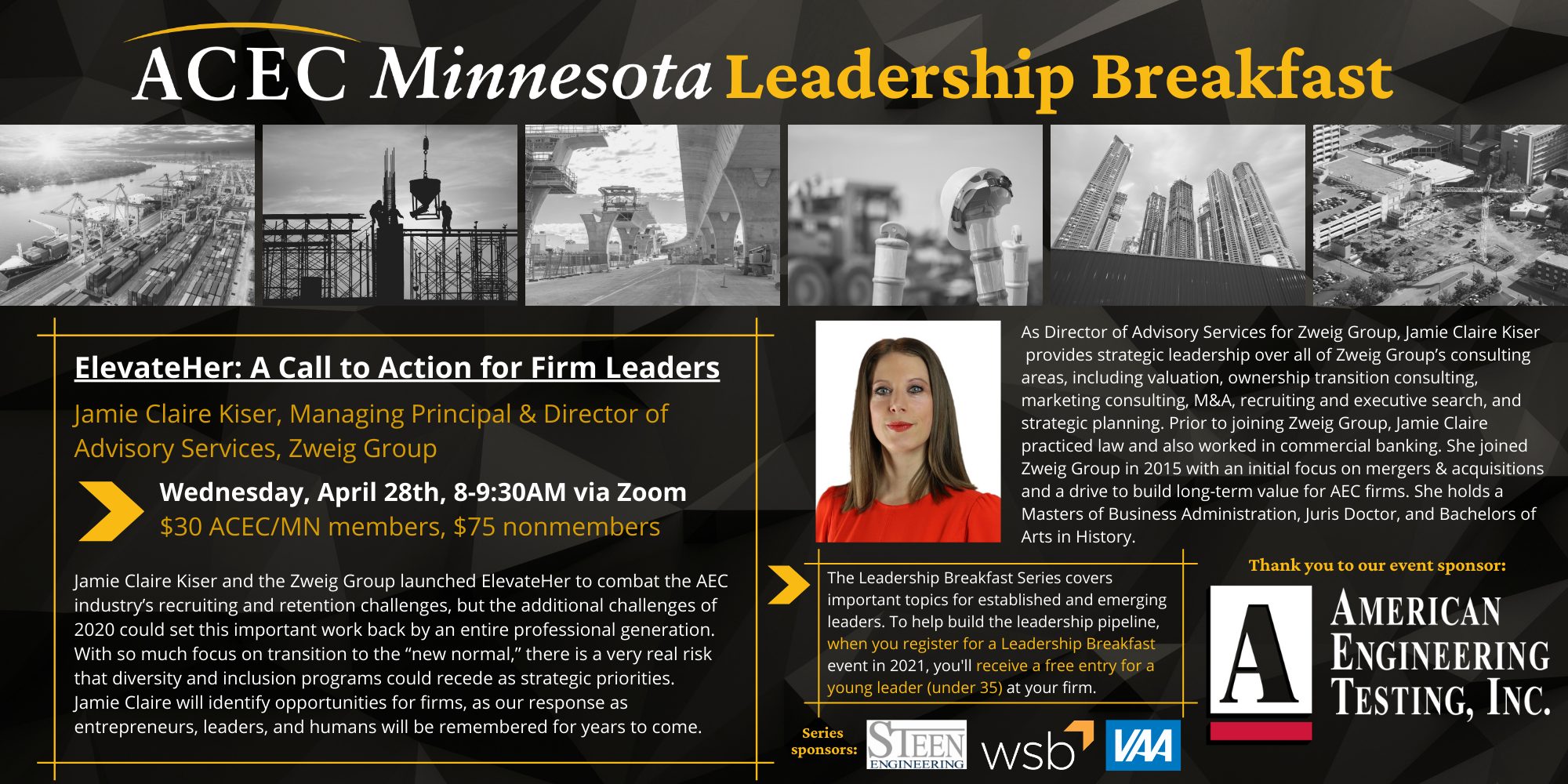 The path to building companies that better reflect the clients and communities that we serve is an effort that we at Zweig Group have invested energy and resources to address since the launch of ElevateHer as a way to combat the AEC industry's recruiting and retention challenges. The additional challenges of 2020 truly have the potential to set this important work back by an entire professional generation if we do not take seriously the genuine fissures in our workforce and workplace practices. The firm that can find opportunity in the circumstance, though, will be remembered for how they responded as entrepreneurs, leaders, and humans for years to come.

The decisions firm leaders make today will determine the talent available to the industry for the next professional generation. The lessons learned from previous crises tell us that there is a very real risk that diversity and inclusion programs are at risk for receding from the forefront as a strategic priority for organizations unintentionally as companies focus on basic needs to transition to the "new normal," which could cripple organizations – and, indeed, the entire AEC industry – in the future as they seek to stabilize, flourish, and grow.

The reality is that COVID has already set women back in the workforce significantly. According to SE3's 2020 Children and Dependent Care Brief, only 4% (of over 2,000 AEC industry respondents) felt that their employers are supportive of employees with dependents. Further, 61% of women felt that having a dependent had a negative impact on their career, as opposed to 17% of men. This year has been tough; the data coming out of 2020 is going to be hard to process and SE3's research is just one dive into many realities many may feel before the stats arrive.