Leadership Breakfast: How an Inclusive Culture Will Move Your Business from Surviving to Thriving
Date and Time
Monday Nov 8, 2021
8:00 AM - 9:30 AM CST
Location
Via zoom, connection information provided in registration email.
Fees/Admission
$30 for ACEC/MN members, $75 for nonmembers,

And remember, when you register for a Leadership Breakfast event in 2021, you'll receive a free entry for a young leader (under 35) at your firm (see details in your confirmation message).
Leadership Breakfast: How an Inclusiv...
Description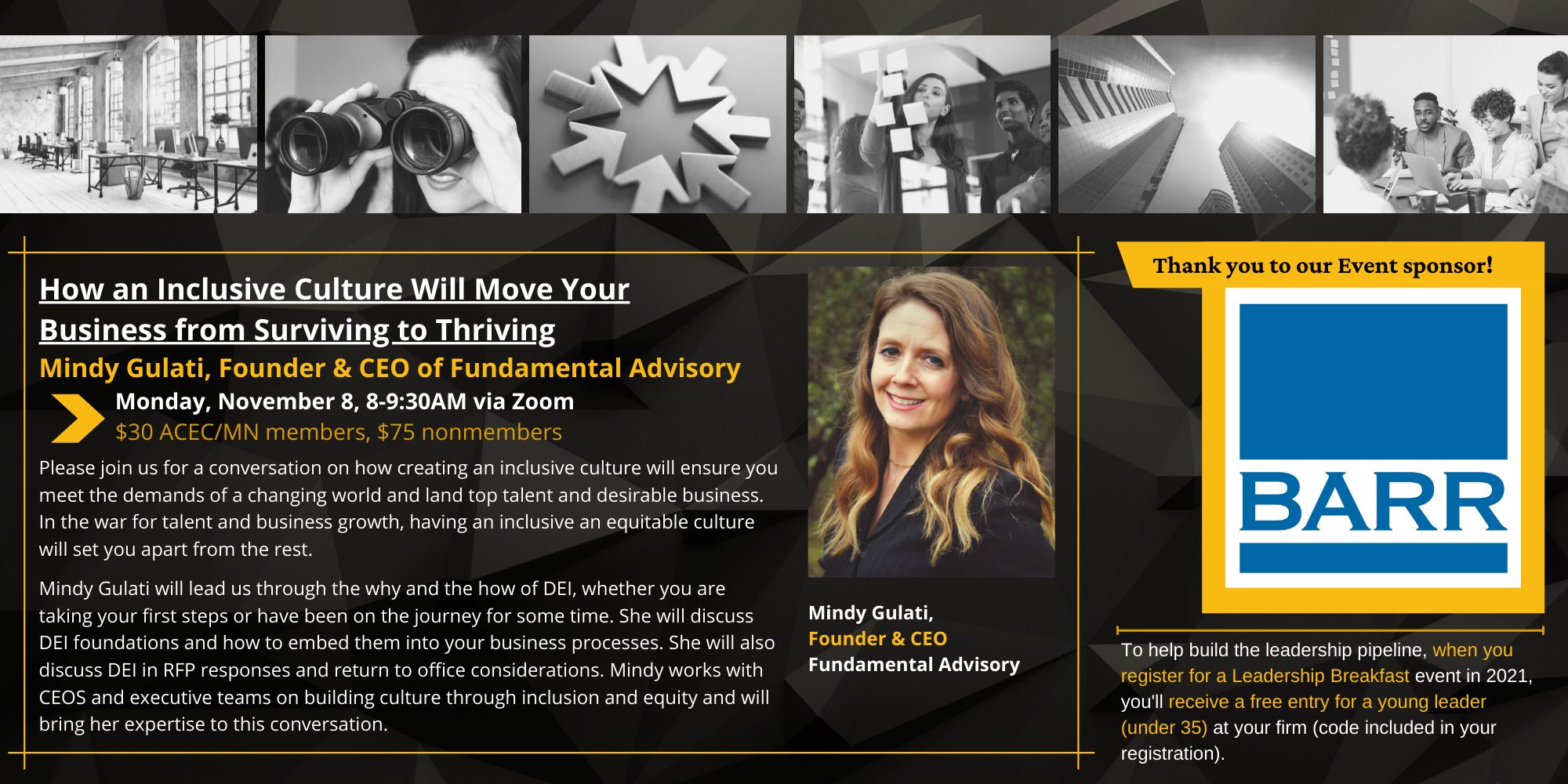 Click here to learn more about sponsorships and register as the Event Sponsor for this event, or as a Series Sponsor for this year's Leadership Breakfasts.

Speaker Bio:
Mindy Gulati is founder and CEO of Fundamental Advisory, a consulting firm focused on advising businesses, state and local governments, nonprofits, and law firms on issues related to Diversity, Equity, and Inclusion. Using her expertise and personal approach, she designs DEI strategic plans, drafts policies and procedures, and creates custom content and workshops for a wide range of organizations around the country. Her focus is strategy for equity & inclusion, implicit bias awareness, antiracism, creating innovative cultures, executive leadership coaching, educating on the ethical implications of bias, as well as guiding organizations on legal issues such as sexual harassment and discrimination. Her approach provides the foundational basis for cultural change through awareness, storytelling and understanding. She regularly tackles complex issues such as racial tensions at the workplace, implicit and explicit bias in decision making, creating culturally competent workplaces, compensation equity, and ethical leadership and management. Her legal background gives her a key advantage in understanding these issues with an eye towards risk mitigation and by crafting specific policies and procedures to guard against the harms that workplace inequities create.

As a former criminal defense attorney and subject matter expert on implicit bias, she is passionate about fostering equity and inclusion through her work. She is intentional in the projects she takes on and leaves a lasting impact on the organizations she works with. She has invested tremendous energy throughout her career sparking lasting movements for change through relationship-building and hard work; though her most profound joy comes from opening minds and opening doors and making the world a better place. She prides herself on being a builder for others and recognizes that incremental improvement is only part of the path to success, not the finish line.