Leadership Breakfast: Minnesota Chamber Executive Panel
Date and Time
Wednesday Feb 9, 2022
7:30 AM - 9:30 AM CST
7:30AM Registration
8:00 to 9:30AM Program
Location
Golden Valley Country Club
7001 Golden Valley Rd, Golden Valley, MN 55427
Fees/Admission
$30 ACEC/MN Members
$75 Non-members

Three-day notice required on all event/seminar cancellations for full refund
Leadership Breakfast: Minnesota Chamb...
Description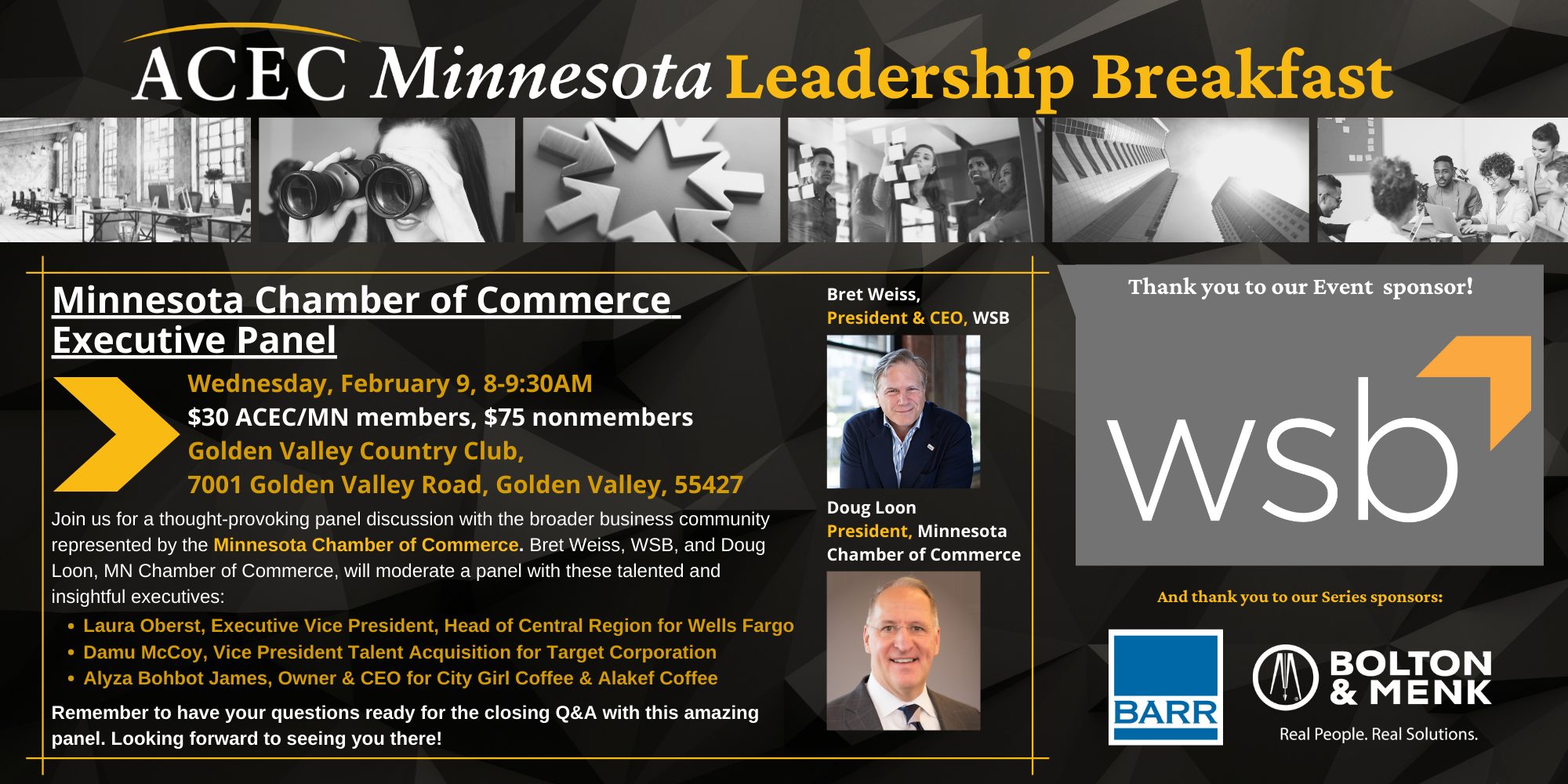 Speaker Bios:

Doug Loon, Minnesota Chamber of Commerce, President & CEO
Douglas B. Loon is president and chief executive officer of the Minnesota Chamber of Commerce, a position he has held since September 8, 2015. The Minnesota Chamber represents more than 6,300 Minnesota companies, 130 local chambers and 65 business trade associations at the Minnesota Legislature on a variety of issues that impact Minnesota's economy. The Minnesota Chamber was recognized as the State Chamber of the Year for 2021.
Prior to assuming leadership of the Minnesota Chamber, he spent 20 years at the U.S. Chamber of Commerce, 17 of those in Minnesota. As the vice president for regional affairs and advocacy, he managed the seven regional offices that provide political and grassroots outreach across the nation. He also managed the U.S. Chamber's Midwest Region that includes Minnesota. He was intimately involved in supporting state and local chambers and businesses to move public policy in a direction that helps them be successful.
Previously, Loon served as director of congressional and public affairs at U.S. Chamber headquarters in Washington, D.C. There, he served as one of the organization's chief lobbyists before Congress on issues critical to the American business community.
Before joining the U.S. Chamber staff in 1995, Loon was legislative director to Senator Arlen Specter of Pennsylvania. In his 10 years on Capitol Hill, Loon also served as acting staff director for the Senate Committee on Veterans' Affairs and on the Senate Commerce Committee. In addition, he worked for Senator Larry Pressler of South Dakota.
Loon received his bachelor's degree in government and international affairs from Augustana College in Sioux Falls, S.D. He is a graduate of the Congressional Research Service's Institute for Legislative Staff as well as the Federal Election Commission's program on campaign finance laws for incorporated trade associations and membership organizations. He also graduated from Leadership Minnesota, an exclusive program of the Minnesota Chamber addressing the economic and public policy issues of Minnesota businesses. He is past chair of the Eden Prairie Foundation Board of Directors.

Bret Weiss, WSB, President & CEO
Bret A. Weiss is President and CEO of WSB, a design and consulting firm specializing in engineering, community planning, environmental and construction services. Weiss is one of the founders of WSB and has worked in the civil engineering community for more than 30 years. Bret is a passionate leader who is committed to his staff and clients. He believes that a strong culture drives results and he inspires his team to discover thoughtful and creative solutions to infrastructure challenges.
Bret is also a champion and advocate of the Minnesota business community. He is actively involved in organizations both inside and outside of the AEC industry. Recently. Bret was appointed by Governor Tim Walz to the Minnesota Department of Transportation Connected and Automated Vehicles Advisory Council. In addition, Bret supports the broader business community through his role as the Chair of the Board on the Minnesota Chamber Board of Directors, the Minnesota Chamber Foundation and also dedicates time to the arts by serving on the Hennepin Theatre Trust Board of Directors. In recent years, Bret and WSB have committed to improving industry diversity through WSB's technical workforce training program, Opportunity+.
Headquartered in Minnesota, WSB is a fast-growing organization that operates throughout the U.S. from 15 offices in five states. WSB has been regularly recognized as a Top 150 Workplace by the Star Tribune newspaper, a Hot Firm by the Zweig Group and a Top 500 Design Firm by Engineering News Record and recognized in 2021 as a Fast 50 honoree by the MSP Business Journal.