"Shoot for the PAC" Clay Shoot Competition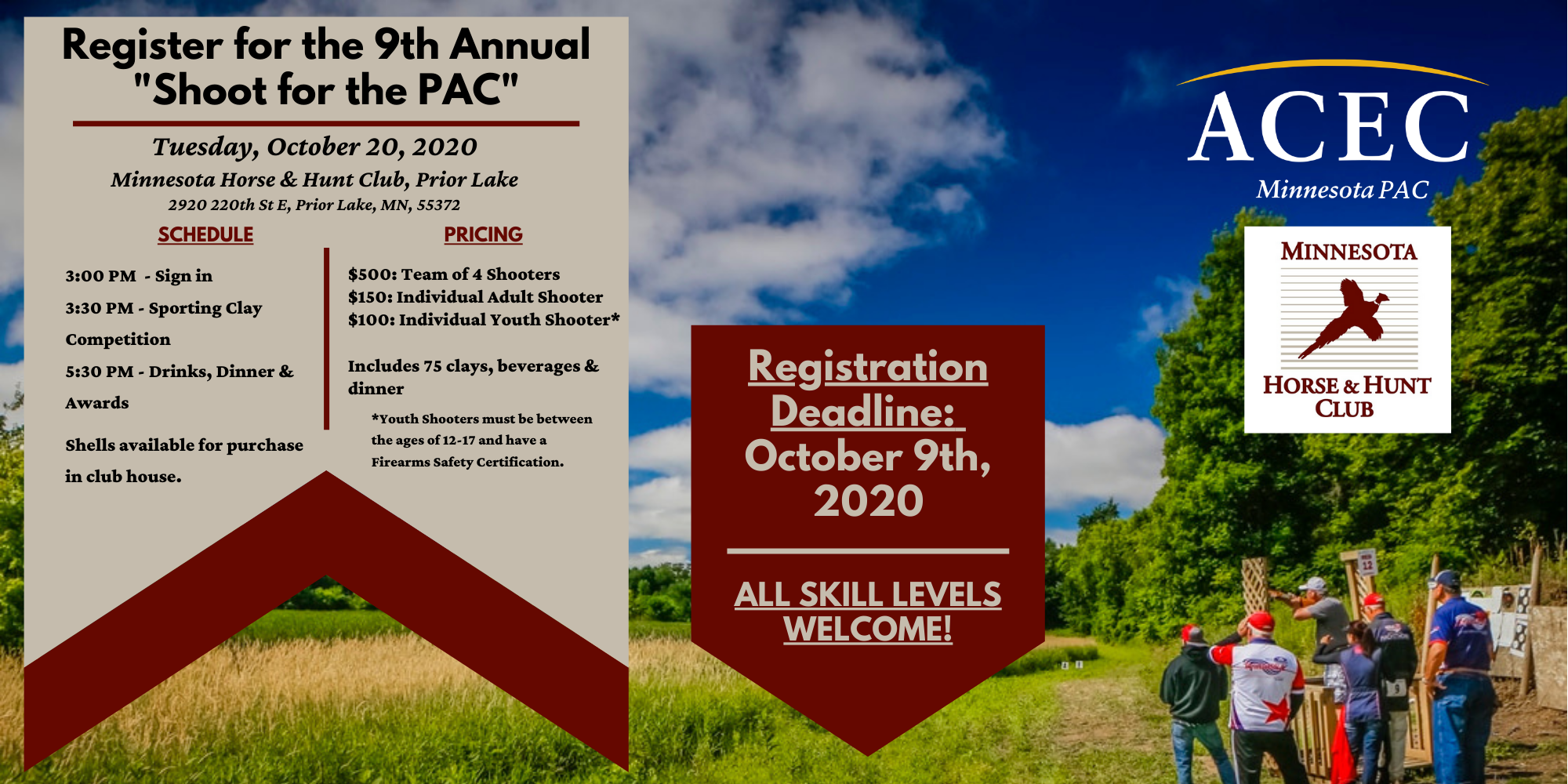 The 9th Annual Clay Shoot will be held on Tuesday, October 20, 2020 at the Minnesota Horse & Hunt Club (located at 2920 East 220th Street Prior Lake, MN 55372).

Mark your calendars now and join your colleagues for a fun afternoon of clay shooting with proceeds supporting the ACEC/MN PAC. Plan your teams early!
We will be holding the dinner and awards in the Horse & Hunt Club's large outdoor tent space to ensure safety for all attendees.
Be sure to bring a mask and some hand sanitizer to help keep everyone safe and healthy - we will also bring disposable masks to the event if you happen to forget yours.
Even though we're outdoors, be sure to social distance whenever possible.
Please fill out the form linked here
, save the file with the Team Captain Name in the file name, and return it by email to John Krapek at john@acecmn.org.
To make a payment via credit card, please visit the
ACEC/PAC webpage by clicking here
and use the Paypal links to make a payment. Make sure to also register for the event (and enter the names for your team if registering a team), and when you register please include your home address to comply with Campaign Finance Board regulations.
Payments can also be made by personal check.
"Shoot for the PAC" Clay Shoot Compet...
Date and Time
Tuesday Oct 20, 2020
3:00 PM - 7:00 PM CDT
3:00 pm: Registration
3:30 pm: Sporting Clay Competition
5:30 pm: Social hour, drinks, dinner & awards
Fees/Admission
Because this event raises funds for the ACEC/MN PAC, payment must be made by personal check or by Paypal. Company payments cannot be accepted for this event.

$500: Team of 4 Shooters
$150: Individual Adults
$125: Individual Youth (Youth shooters must be between 12 and 17 years old with a Fire Arms Safety Certificate.