Women In Engineering: Once Upon a Company - Discover the Irresistible Power of Strategic Storytelling.
Date and Time
Wednesday Feb 16, 2022
12:00 PM - 1:00 PM CST
Location
10 West End Building, First Floor Training Room
1601 Utica Ave S, St Louis Park, MN 55416


Fees/Admission
$20 ACEC/MN members
$40 non-members

If you have any trouble receiving member pricing, or to sign up as a student, please contact Jessica Kivijarvi at jessica@acecmn.org for assistance.
Women In Engineering: Once Upon a Com...
Description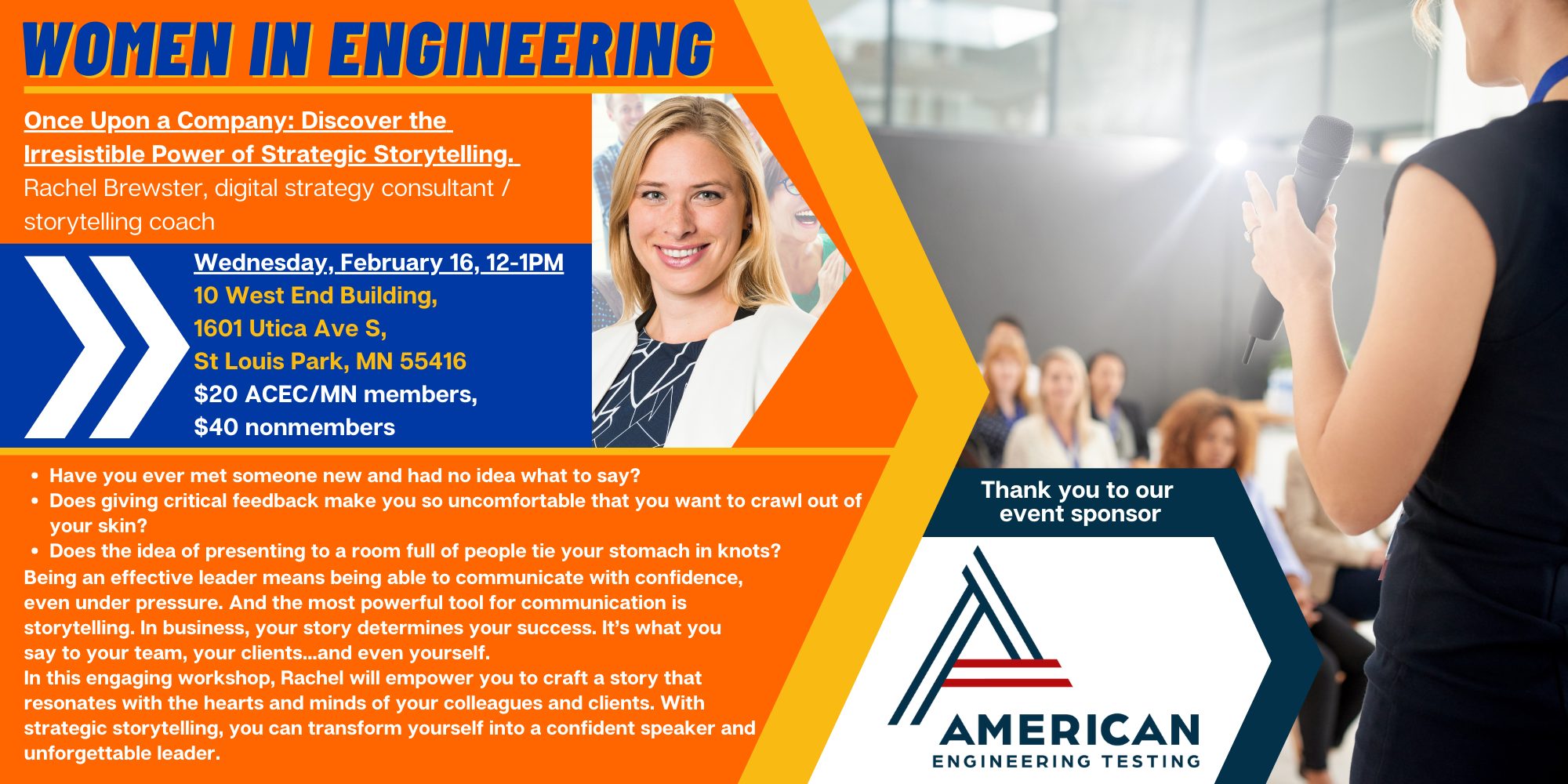 Have you ever met someone new and had no idea what to say?
Does giving critical feedback make you so uncomfortable that you want to crawl out of your skin?
Does the idea of presenting to a room full of people tie your stomach in knots?

Being an effective leader means being able to communicate with confidence, even under pressure. And the most powerful tool for communication is storytelling. In business, your story determines your success. It's what you say to your team, your clients…and even yourself.

In this engaging workshop, Rachel will empower you to craft a story that resonates with the hearts and minds of your colleagues and clients. With strategic storytelling, you can transform yourself into a confident speaker and unforgettable leader.

Laugh and learn:
understand the psychology behind strategic storytelling...so you can take full advantage of it!

speak with calm, confidence and credibility

position yourself as the go-to expert in your field

give constructive feedback with confidence

sell yourself and your skills...without bragging!
Bio
Rachel Brewster is a digital strategy consultant and storytelling coach! She helps executives speak with confidence without feeling like an imposter, even under pressure.
She has 10+ years of experience in business communication, mostly at Fortune 50 companies like Target and Best Buy. She has a BA in Communication from the University of Minnesota Duluth and an MBA from ESADE Business School in Barcelona. She also has a background in improv, comedy and theater.
Rachel is a native English speaker and a fluent Spanish speaker…but comedy is her language of choice!