Women In Engineering: We're Leaders, Not Imposters
Date and Time
Monday Dec 6, 2021
12:00 PM - 1:00 PM CST
Location
Via Zoom, registration link will be provided in your confirmation message.
Fees/Admission
$20 ACEC/MN members
$40 non-members

If you have any trouble receiving member pricing, or to sign up as a student, please contact Jessica Kivijarvi at jessica@acecmn.org for assistance.
Women In Engineering: We're Leaders, ...
Description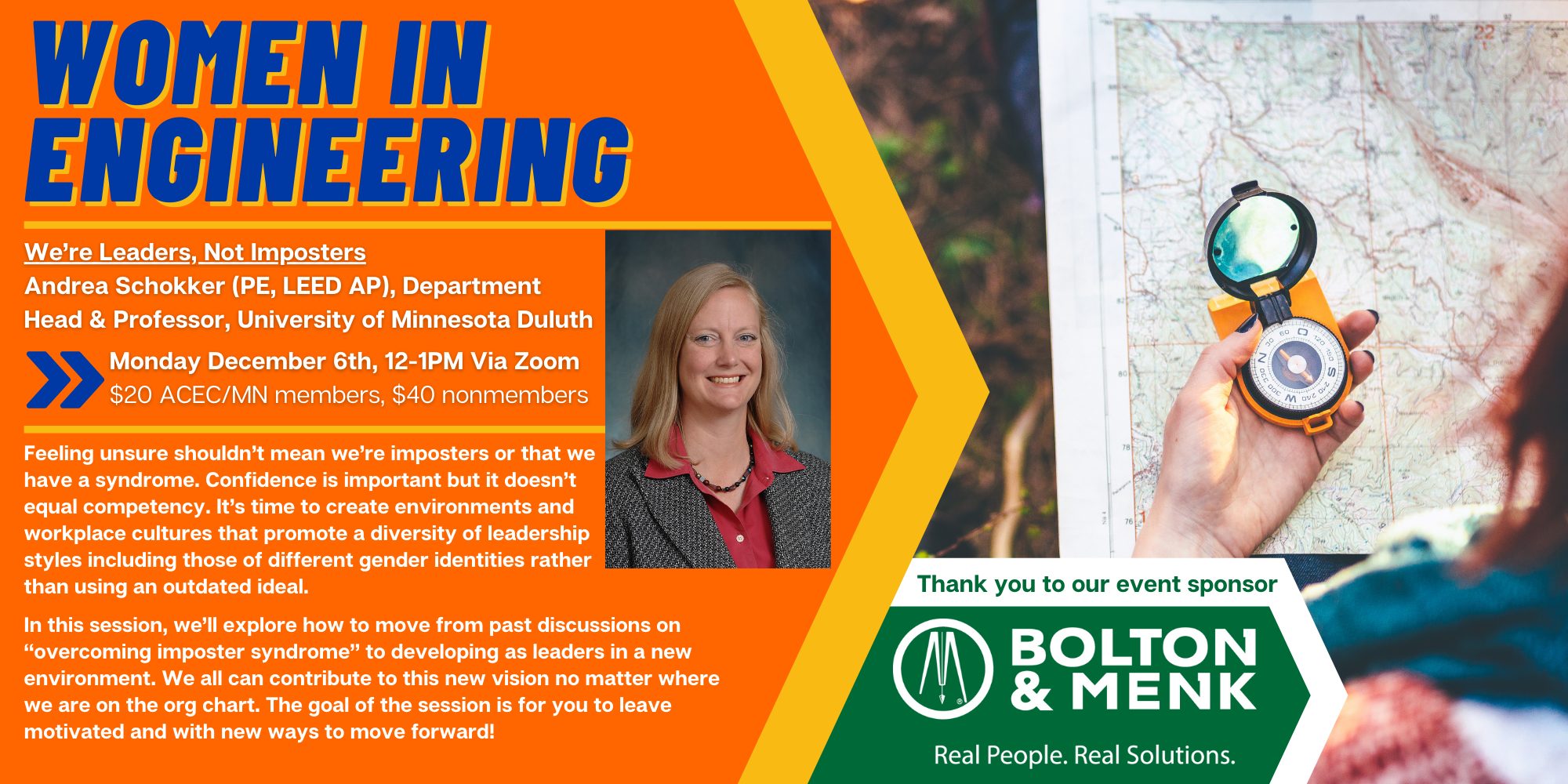 Presenter Bio: Andrea Schokker, P.E., LEED AP, PhD, is currently the Department Head and Professor of Civil Engineering at the University of Minnesota Duluth (UMD). Dr. Schokker has served in numerous leadership positions in academia and in professional engineering organizations. She was the founding Chair of the Department of Civil Engineering and then the Executive Vice Chancellor at UMD from 2012-2016 with oversight of all academic programs and institutes and oversight of a budget of over $150 million. She is a current member of the Executive Board of the American Segmental Bridge Institute, leads the new ACI 319 Precast Building Code as well as being a member or chair of multiple committees in the American Concrete Institute (ACI), Precast/Prestressed Concrete Institute (PCI), Post-Tensioning Institute (PTI) and the American Segmental Bridge Institute (ASBI). She has served as an expert witness in prestressed concrete cases worldwide and as a consultant through her company, Schokker Consulting, LLC.